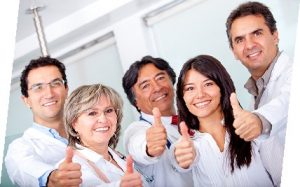 What keeps you up at night? Being a boss? Running your practice? I help dentists find relaxed confidence as business owners and bosses. Discover how to navigate the dental practice jungle and be COMFORTABLE, CONFIDENT AND CAPABLE. If you want to love coming to work, let's talk. 
Unique Coaching Just for Dentists
Tap into my 30 years in the dentistry 'trenches' 
Finally a coach who really understands your challenges!
Are you a dentist who is a reluctant entrepreneur? What would change for you if you knew how to make your practice better, healthier and easier to run? I make it easy to gain confidence in your role as leader and business owner and eliminate that Sunday night dread you feel about going to work on Monday!
Practice management consultants tell dentists & their teams what to do. I show you how and help you work out solutions that are right for YOU. I've been doing it for 30 years.  My expertise is teaching hands-on, grass-roots fundamentals  that lay the foundation on which you can build a happy, healthy practice. My coaching experience and training enable me to be a collaborator and support system for you.  I help you to see how and then I provide an on-going resource for you to continue learning. You CAN love coming to work!
COACHING
Be Challenged. Be Confident. Coaching for professionals and entrepreneurs is an idea whose time has come. You have the answers, you have the ideas, you know where you want to go. Sometimes it just takes a little help from a trained coach to sort out your thoughts, reign in your worries, and lay out your path ahead. I am a Certified Executive Coach with an PCC designation from the International Coach Federation. I am
also a Certified Team Performance Coach, which means you have a resource to cultivate your team into one that can work with you (not against you) to build and nurture your practice. I have worked with dentists for 30 years in a variety of capacities and know the profession, its challenges and idiosycracies! I guarantee confidentiality and I guarantee the prospect of confidence in all you do. Being coached isn't always easy, but it works! See the Coaching page of this website for more details.
TEAM COACHING
What if you had a resource at your finger tips to help you build, grow and nurture your practice? You do! It's your team. Sadly, most dentists say that their teams and 'managing
staff' are the bane of their existence. This can be true when a team is not a team – when it's not cultivated to energize a practice; when the team leader is not demonstrating leadership; when a team does not operate as a high performing team; and when team toxins and communication cancers get in the way of how a team operates. You CAN cultivate a team through coaching using assessment tools that enable a team to look at itself as a living entity (rather than as a group of individuals) and a coach that guides you and your team  into new possibilities. Step one is finding out how you see your team – call me today for your no-charge Team Leader View – an online questionnaire that takes about 25 minutes to complete!