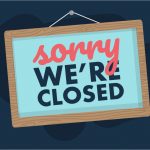 Does it feel as though your 'house of cards' is crumbling? Covid-19 has hit many industries with a punch no-one saw coming. Dental practices are no exception. The bad press received about Pacific Dental Conference notwithstanding, dentists are receiving an unprecedented one-two punch in the gut with most practices closing completely.
How is your practice handling layoffs? Are you considering offering your employees anything other than EI benefits? Can you afford to do anything more??
One piece of advice I keep hearing makes sense to me, whether it's the CDA or the ADA. Keep your patients reassured and keep yourself in their hearts and minds. How can you do that?
Have a real voice at the end of the phone line. Your front desk person can collect messages and return calls or be at the front desk answering the phone. Ensure that the machine message is in the dentist's voice and then return any messages quickly.
Social media is hot, hot, hot right now. Use it. Dust off or create your Facebook page, Twitter account, Instagram account. You can delegate posting to one of your layed-off staff members as long as the content is created or at least vetted by you. What to include in content? Reassurance. Tips on cleanliness. Ways to ensure oral health routines are not forgotten or neglected and the importance of why. Reassurance that once we are back to a normal schedule you will do everything you can to ensure that your patients get back on their regular schedules too. For those who are still seeing emergencies, define what an emergency is. There are myriad ways to provide content that is useful and helpful and reassuring to your patients. And of course, put an announcement of reassurance and information on your website.
Check your inventory. If your closure is likely to go on for 12 weeks (and it might!), what will you need. The supply chain is starting to unfreeze right now as China's needs, where many of our products are made, are becoming less dire and product is beginning to move. If you have surplus, release it to care homes, hospitals, police, fire departments, etc. and then either send a press release to the paper or post about it.
Strategize for ways to begin the rebuilding process, not just of your practice, but the industry as a whole, once the Covid-19 Curve allows us to begin the process of reopening and rebuilding our worlds.
Stay safe and stay well.